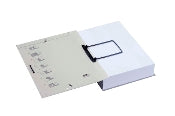 Jalema letter size shelf files expand/contract as the contents increase/decrease.

The spine is adjustable and allows up to 3" of documents in each file.

Each file has a JalemaClip woven through the spine to help secure pages.

An elastic band keeps outer covers closed for safe and easy transport.

This Extension File comes open on 3 sides like a regular file.

25 per box.

Comes in grey.

5290800.