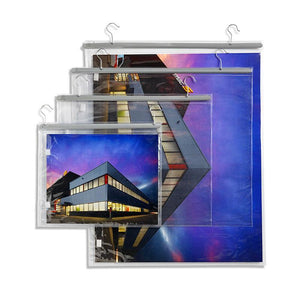 Large vinyl envelopes are used for storing film, artwork printed circuit board material (PCB).

Each 8 gauge Vinyl Envelope is folded and sealed on 3 sides and have 2 removable hooks that hang on vinyl suspension rails which are mounted in 4-post shelving/cabinets.

A front flap is secured by velcro tabs.

Each file comes with 2 hooks and a metal hanger.

25 per box.
Sizes available: 
12"x17". 25/bx. Item #6000-E
17"x21". 25/bx

. Item #6010-E

20"x25". 25/bx

. Item #6008-E

29"x25". 25/bx

. Item #6002-E